Navalny files defamation suit against Novosibirsk Mayor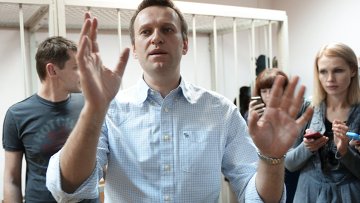 15:17 03/07/2015
MOSCOW, July 3 (RAPSI) - Opposition politician Alexei Navalny and the Novosibirsk branch of the RPR-PARNAS party have filed a lawsuit against Novosibirsk Mayor Anatoly Lokot for slandering Navalny's honor, dignity and business reputation, RIA Novosti reported Friday.
According to the court, the suit will be accepted or denied within five days as stipulated by law.
On Tuesday, at a meeting of the Mayoral Public Council, Lokot announced that the Democratic coalition, which includes RPR-PARNAS as one of its members, is allegedly funded from abroad and that the US Congress allegedly used $20 million to support the coalition in the Russian regional election.
Lokot also claims that "the developing situation is similar to the Orange Revolution" and said that the Democratic coalition pays 150 rubles ($2.7) for every signature in support of its participation in the election this fall.
Alexei Navalny is the leader of the Party of Progress. He finished second in the 2013 Moscow mayoral race and is the author of one of the more popular political blogs, which was banned for promoting unauthorized public protests. He has been given two suspended sentences for embezzlement – five years in the Kirovles case and 3.5 years in a recent Yves Rocher Vostok case.