Auschwitz death camp bookkeeper sentenced to four years in prison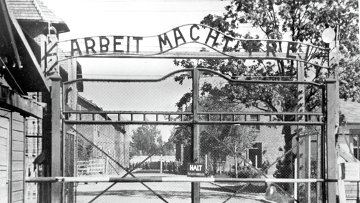 12:15 15/07/2015
MOSCOW, July 15 (RAPSI) – The Luneburg Regional Court in Germany has sentenced former Nazi Oskar Groening, 94, to four years in prison for complicity in the murder of 300,000 people in the Auschwitz death camp during World War II, RIA Novosti reported on Wednesday.
Groening, who has been on trial since April, made two statements to admit moral guilt but said it was up to the court to decide whether he was legally guilty. Prosecutors asked the court to sentence him to three and a half years in prison.
Auschwitz-Birkenau was a network of concentration and extermination camps. The oldest of them, Auschwitz, opened in 1940 near Oswiecim, a city in Poland 60 km west of Krakow. The construction of Birkenau began in 1941. About 1.4 million people were killed in the camps by 1945, including 1.1 million Jews.
As the largest and oldest Nazi extermination camp, Auschwitz-Birkenau has become one of the main symbols of the Holocaust. Soviet troops liberated the camp on January 27, 1945, a day now commemorated as International Holocaust Remembrance Day.
Oskar Groening did not kill anyone but worked as a bookkeeper at the camp, recording the currency taken from the prisoners upon their arrival. German prosecutors argued that by sorting the money he helped support a regime responsible for mass murder and was therefore an accessory to mass murder at the camp.
The charges against Groening concerned the period between May and July 1944, when 137 trains carrying roughly 425,000 Jews from Hungary arrived at Auschwitz. At least 300,000 of them were sent straight to the gas chambers, the indictment said.