Prosecutor demands life sentence for Russian nationalist Goryachev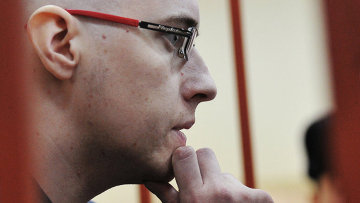 15:43 15/07/2015
MOSCOW, July 15 (RAPSI) – A prosecutor has asked the court to sentence Ilya Goryachev, the alleged leader of the Military Organization of Russian Nationalists (BORN), to life in prison, RAPSI reported from the Moscow City Court on Wednesday.
Prosecutor Maria Semenenko also asked the court to satisfy a civil claim filed by the family of Ilya Dzhaparidze, the deceased leader of an anti-Nazi movement, to recover 5 million rubles ($87, 800) in compensation from Goryachev.
Other victims refused to claim moral damages.
A jury on Tuesday unanimously found Goryachev guilty of masterminding five murders, arms possession and trafficking, and of creating an extremist group.
The homicides include the deaths of federal judge Eduard Chuvashov, attorney Stanislav Markelov, leaders of Russian anti-Nazi movements Fyodor Filatov, Ilya Dzhaparidze and Ivan Khutorsky, and Amateur Muay Thai world champion Muslim Abdullayev.
According to investigators, nationalists Goryachev and Nikita Tikhonov created the Military Organization of Russian Nationalists (BORN) in Moscow in mid-2008.
Members of BORN have been charged with racketeering, illegal weapons trafficking and several counts of ideological and racial homicide and the attempted murder of police personnel.
Tikhonov, who is believed to be one of the group's leaders, was convicted and sentenced in May 2011 to life in prison for the murder of Markelov and Novaya Gazeta journalist Anastasia Baburova. He got 18 extra years in prison last September for killing Chuvashov.
Tikhonov's accomplice Yevgenia Khasis, who was given 18 years behind bars, said in her testimony that Goryachev was a murderer "because he ordered the murders."
In April of this year, the Moscow Region Court sentenced two other BORN members to life behind bars and another to 24 years in prison.
The investigation into the alleged involvement of other suspects in these crimes is ongoing, Investigative Committee spokesman Vladimir Markin told journalists.