Russian investigators ask for arrest of lawmaker Ponomaryov in absentia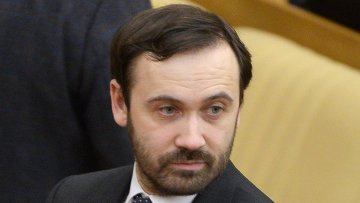 16:32 15/07/2015
MOSCOW, July 15 (RAPSI) – The Basmanny District Court of Moscow has received the investigators' motion seeking to arrest in absentia State Duma member Ilya Ponomaryov in relation to the Skolkovo Foundation embezzlement case, the court's spokesperson Anna Fadeyeva told RAPSI on Wednesday.
The court will hear the motion on July 17.
Official spokesman for the Investigative Committee, Vladimir Markin, earlier released a statement saying that a criminal case had been opened against Ponomaryov as an accomplice in the embezzlement. Markin stressed that the State Duma gave its approval for the proceedings.
Investigators claim that Ponomaryov assisted former Skolkovo Vice President Alexei Beltyukov in the embezzlement of over 22 million rubles ($386,100) in foundation money.
According to investigators, Beltyukov paid Ponomaryov $750,000 of the foundation's money, without management approval, for lectures and research projects between February 2011 and February 2012.
An investigation was launched into Beltyukov's actions to analyze the subject, the content and the academic value of the lectures that Ponomaryov was contracted to provide for $300,000. Ponomaryov has pleaded not guilty. He claims the accusations are politically motivated.
The Investigative Committee reported in May that it has opened an embezzlement case against Beltyukov.
In August 2013, Moscow's Gagarinsky District Court ruled that Ponomaryov must pay 2.7 million rubles ($47,400) to the Skolkovo Foundation, Russia's high-tech development center, for an unreasonably overpriced service. The Moscow City Court upheld the ruling in November.