Natalia Potanina ready to settle all legal disputes with ex-spouse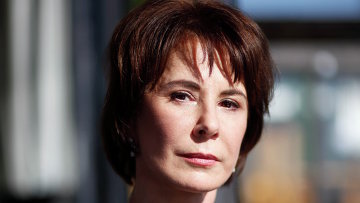 11:36 29/07/2015
MOSCOW, July 29 (RAPSI) – Natalia Potanina is ready to settle all ongoing litigation with her former husband and one of Russia's richest men, Vladimir Potanin, RIA Novosti reported on Wednesday.
Natalia Potanina claims she has repeatedly proposed negotiating a settlement. She said it would be "ideal if Vladimir or his representatives offered me an out-of-court settlement that guarantees an acceptable alimony and part of the community property."
Vladimir Putanin's attorneys declined to comment.
On July 28, the Presnensky District Court in Moscow ruled that Natalia Potanina must pay 78 million rubles ($1.3 million) in damages to Potanin's Eco Invest company over a failure to sell a house in the village of Nemchinovo in the Moscow Region.
The lawsuit was suspended in September 2014 after Potanina filed a claim with Moscow's Tverskoy District Court seeking to nullify the sales agreement. However, the court ruled in favor of Eco Invest.
Potanin was granted a divorce from his wife in February 2014.
In late April 2015, Natalia Potanina filed a lawsuit for ownership of 50 percent of her ex-husband's stake in Norilsk Nickel and half of Interros International, which holds their other assets.
Under the Russian Family Code, the property acquired during a marriage is considered community property and therefore should be divided into equal parts in a divorce.
On July 10 of this year, Moscow's Presnensky District Court issued a ruling on dividing Potanin's assets with his ex-wife.
According to a source familiar with the lawsuit, the court ruled that Vladimir Potanin keep a 407 sq m luxury apartment on Skatertny Pereulok (central Moscow) and a church, St. Blessed Tamara in the village of Anosino, in the Moscow Region.
Natalia Potanina will receive 380 million rubles ($6.3mln) in compensation for her share of the apartment, as well as three plots of land in the Moscow Region.
Also, on July 30, the court will hear Natalia Potanina's lawsuit on dividing the Norilsk Nickel and Interros shares between the former spouses.