Russian Supreme Court upholds dismissal of suit against Defense Ministry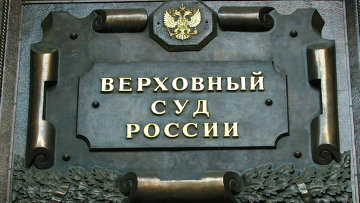 14:36 05/08/2015
MOSCOW, August 5 (RAPSI) – Russia's Supreme Court upheld on Wednesday the dismissal of a lawsuit which had been filed by firearms producer Izhmash seeking 437.2 million rubles (about $7 million) in damages from the Defense Ministry over 2011 explosion at arms depot in the Udmurtia region, according to court records.
On September 28, 2012, the Commercial Court of the Udmurtian Republic dissmissed the lawsuit by Izhevsk Machinebuilding seeking to recover 618.1 million rubles in damages from the Defense Ministry. A court of appeals then upheld the ruling. A court of cassation on February 28, 2013 overturned the ruling and ordered a new trial.
During the new trial the damages in the case were reduced from 618.1 million rubles ($9.8 million) to 437.2 million rubles (about $7 million). The courts partially granted the suit ordering the Defense Ministry to pay out 246.2 million rubles ($3.9 million). Izhmash appealed the ruling.
On April 20, the Russian Supreme Court's Economic Crimes Panel upheld the ruling of the lower-instance court which had dismissed the initial Izhmash lawsuit. The company then filed a supervisory appeal against this ruling.
On June 2, 2011, a fire broke out at a storage facility at the Central Military District's artillery munitions arsenal in Udmurtia, causing multiple explosions. Over 28,000 people were evacuated from the disaster area. In all, 100 people were hurt, and 48 were hospitalized.
The Izhmash suit demanded that the Defense Ministry pay damages for the loss of the military materials stored at the base.
Izhmash develops and manufactures Kalashnikov and Nikonov assault rifles, submachine guns, sniper rifles, rocket launchers, aircraft weapons, guidedartillery systems, weapons maintenance systems, commercial and special-purpose machine-tools and other tools.