Russian businessman Polonsky to remain in detention until October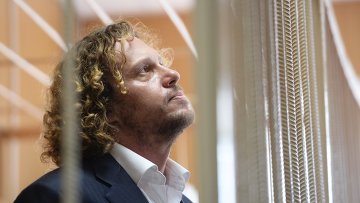 17:05 12/08/2015
MOSCOW, August 12 (RAPSI, Alexei Afonsky) – The Moscow City Court on Wednesday upheld the detention of real estate tycoon Sergei Polonsky, who stands charged with large scale fraud, RAPSI reports from the courtroom.
The court therefore rejected an appeal filed by the businessman. Polonsky will stay jailed until October 11.
The businessman's lawyers said the detention is an unjustified pre-trial restriction because Polonsky currently has no access to his foreign passport and therefore cannot flee abroad.
The prosecutor disagreed with the argument and claimed the selected measure is legitimate and justified.
The defendant himself was present at the hearing via video linkup. As he was making his final remarks in court, Polonsky announced he has been diagnosed with cancer. "My life is in God's hands. I was diagnosed with cancer 20 days ago," he said.
Polonsky, head of Potok Group (earlier Mirax) has been charged with fraud in absentia in the case of embezzlement of 5.7 billion rubles ($88.2 mln) from the Kutuzovskaya Mile residential community interest holders in the summer of 2013.
In May 2015, Cambodia, where Polonsky was escaping the Russian law enforcement, extradited him to Russia. He is currently in detention and has already been charged in presentio. He may face up to ten years in prison for fraud.