Khrunichev space center asks Defense Ministry for amicable agreement in $27.5 mln suit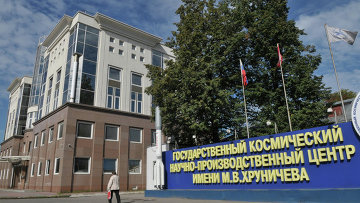 14:03 18/08/2015
MOSCOW, August 18, (RAPSI) – The Khrunichev State Research and Production Space Center, one of the country's leading space enterprises, has asked Russia's Defense Ministry for and out-of-court settlement of its 1.8 billion ruble ($27.5 million) claim, the Kommersant daily reported on Tuesday.
The spacecraft developer earlier admitted that the Defense Ministry was suing them for the July 2, 2013 crash of the Proton M booster, which was carrying two GLONASS-M satellites when it went off course and slammed on the Baikonur launch center grounds a minute into the flight. The Investigative Committee attributed the accident to a substandard installation of the rocket's acceleration sensors.
A Defense Ministry representative asked the court during a preliminary hearing in July for a reimbursement of damages equal to the cost of the booster rocket, its payload fairing and other equipment lost in the crash. The defendant rejected the claim.
An earlier Proton M accident led to the loss of a Mexican satellite on May 16; the faulty operation of the third-stage engine turbo pump unit was cited as a possible reason for the crash.
The Khrunichev State Research and Production Space Center currently focuses on manufacturing the Proton and Angara booster rockets.