Former Trust Bank top managers to stay in detention until September 23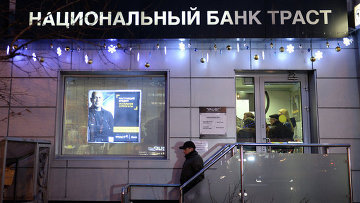 12:53 20/08/2015
MOSCOW, August 20 (RAPSI, Alexei Afonsky) - Moscow's Tverskoy District Court on Thursday extended until September 23 the detention of Oleg Dikusar, ex-deputy chairman of the board at Trust Bank, and Yevgeny Romakov, former bank's CFO, who are charged with embezzlement, RAPSI reported from the courtroom.
Investigators claim that from 2012 to 2014, Dikusar, Romakov, and several unidentified persons allegedly forged loan agreements for over 7 billion rubles ($106.5 million) with several Cyprus-based companies and for over $118 million with companies registered in other jurisdictions.
The money was presumably transferred to the accounts of individuals, including some living abroad, that were controlled by the suspects.
Two criminal cases were opened against the suspects in April and May, which were later merged into a single case.
The defendants could face up to ten years in prison.
Russia's Deposit Insurance Agency sustained large damages because it was required to compensate the embezzled funds to defrauded investors.
Midsized lender Trust Bank reported losses of 18.8 billion rubles ($286 million) in 2014 amid a financial crisis. As of December 1, 2014, its assets were estimated at over 290 billion rubles ($4.4 billion).
The Central Bank estimated that the bank's debts exceeded the value of its assets by 67.8 billion rubles ($1 billion).