Prosecutors demand three-year sentence for climbers in Ukrainian flag case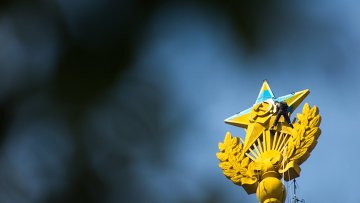 18:23 31/08/2015
MOSCOW, August 31 (RAPSI) – Prosecutors called for climbers who are suspected of attaching a Ukrainian flag to a skyscraper in downtown Moscow and painting it in Ukraine's national colors up to three years in jail, RAPSI reported from the courtroom.
According to investigators, Ukrainian roofer Pavel Ushevets (Grisha Mustang Wanted) who claimed responsibility for the action on his Facebook page and Vladimir Podrezov painted the start, while four base jumpers parachuted from the roof to divert attention. Investigators claim the goal of the action was to "destabilize the situation in Moscow and to incite hatred."
Prosecutors have asked for the minimum penalty – a three-year suspended sentence – for Anna Lepyoshkina, who is pregnant. The rest could spend three years in prison.
On August 20, 2014, a Ukrainian flag was spotted on the spire of a skyscraper on Kotelnicheskaya Embankment in downtown Moscow. The Soviet star on the spire was painted blue and yellow, the national colors of Ukraine.
Four young people with special climbing equipment were detained in the aftermath of the incident, charged with hooliganism and placed on house arrest. The four suspects said they were jumping from the high-rise building with parachutes when someone else painted the star and hoisted a Ukrainian flag on the spire.
They face up to seven years in prison if convicted.
A fifth suspect, Vladimir Podrezov from St. Petersburg, was arrested a few days later. Unlike the other four suspects, the court decided to hold him. His attorney, Vadim Lisitsyn, insists that Podrezov is not guilty as charged.