Preliminary Savchenko hearing scheduled for September 15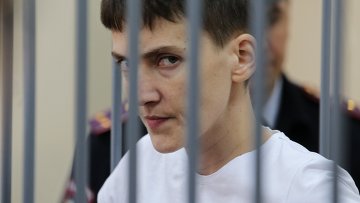 17:00 04/09/2015
MOSCOW, September 4 (RAPSI) – The Donetsk City Court in the Rostov Region has set September 15 for a new preliminary hearing of a case against ex-Ukrainian military pilot Nadezhda Savchenko who stands charged with complicity in the murder of two Russian journalists, RIA Novosti reported on Friday.
According to the court, the pre-trial hearing will be held by a judge behind closed doors and will only be open to those involved in the case.
During the first preliminary hearing, which was held in late July, Savchenko's attorneys asked that the trial be moved to Moscow. The petition was heard at the Rostov Region Court, which dismissed the defense attorney's petition and said the case would be heard at the Donetsk City Court.
Savchenko was arrested in Russia last summer on charges of involvement in the murder of two Russian TV journalists during hostilities in Donbas and on illegally crossing the border into Russia.
TV correspondent Igor Kornelyuk and sound engineer Anton Voloshin were killed on June 17 in a mortar attack.The Russian Investigative Committee singled out Savchenko's case from a larger case of war crimes in Donbas and finished its investigation.
Savchenko who denies all the allegations is facing 25 years in prison.
Her attorneys claim that Savchenko was framed and that there is no evidence of involvement in the journalists' murder. They also claim she did not cross the border voluntarily but was kidnapped.
Savchenko is being held at a pretrial detention ward in Novocherkassk, Rostov Region. Her detention has been extended until September 30.