Member of far-right Ukrainian group jailed for attempt to recruit Russian cops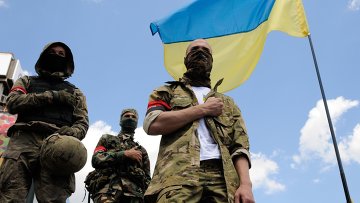 16:26 07/09/2015
MOSCOW, September 7 (RAPSI) – The Moscow City Court sentenced Alexander Razumov to seven years in prison for trying to recruit police officers to Right Sector, a far-right Ukrainian group which has been declared extremist in Russia, RAPSI reported from the court on Monday.
The sentence is one year less than the prosecution requested.
During the parole period, Razumov will be unable to leave home at night, to leave his city of residence, and to take part in public events without the permission of the Federal Penal Service.
Razumov has denied the charges and expressed surprise at such a harsh sentence.
According to investigators, Alexander Razumov was in Ukraine between March and May of 2014, where he had combat and ideological training with the Right Sector. After returning to Russia, he recruited supporters for the extremist organization.
The jury concluded that Razumov encouraged his two police acquaintances, who knew how to handle weapons and special equipment, to fight for Ukraine in the armed conflict in the Donetsk and Lugansk people's republics. He allegedly promised them a monthly salary and additional compensation for killing separatists.
Razumov's lawyer claimed that her client was expressing his own opinions about the events in Ukraine via social network posts that were then used as evidence of recruitment attempts.
Right Sector is a Ukrainian association of radical nationalist organizations. In January and February 2014, they clashed with police and seized administrative buildings in Kiev. Since April 2014, Right Sector has been involved in fighting the protest movement in eastern Ukraine.
In November 2014, Russia's Supreme Court declared Right Sector an extremist group and banned its activity in Russia. The Investigative Committee opened a criminal case against Right Sector leader Dmitry Yarosh for the alleged incitement of terrorism.
In January 2015, Right Sector was added to the Russian register of prohibited organizations.