Son of ex-construction chief at Vostochny to stay in detention on fraud charges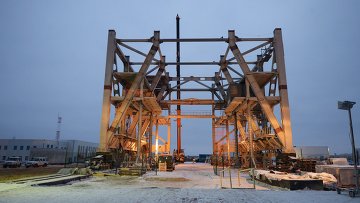 16:00 09/09/2015
MOSCOW, September 9 (RAPSI) - The Moscow City Court on Tuesday upheld the detention of Mikhail Khrizman, the son of former manager of the construction company Dalspetsstroy, who stands charged with embezzlement of funds allocated for the construction of Vostochny Cosmodrome facilities in the Far East, RAPSI learnt in the court.
According to investigators, ex-CEO of Dalspetsstroy, Yury Khrizman, his son Mikhail and Viktor Chudov, Chairman of the Khabarovsk Territory Duma embezzled about 106 million rubles belonging to Dalspetsstroy. However, one criminal episode was uncovered within the investigation into the case over alleged embezzlement at Vostochny Cosmodrome.
Dalspetsstroy has repeatedly reported that the project was behind schedule at some sites but promised to catch up.
Yury Khrisman was fired in 2013 after it was revealed that the government had not received complete information about the delays.
The construction of the space center, due to become Russia's main launch site, began in 2012. The facility is planned to be completed by November 30 and the first manned mission is scheduled for 2018.