New case opened against head of Russia's Komi Republic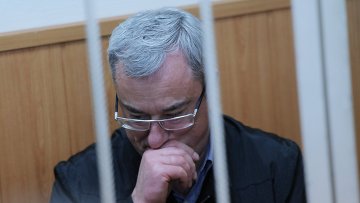 14:30 25/09/2015
MOSCOW, September 25 (RAPSI) - One more criminal case was opened against the head of the Komi Republic, Vyacheslav Gaizer, this time on money laundering, Investigative Committee spokesperson Vladimir Markin announced on Friday.
"Investigators have uncovered evidence of laundering funds that were stolen by the criminal group. The money was transferred to foreign offshore companies disguised as dividends," Markin said.
The case will be heard along with the original case on fraud and organized crime.
Earlier, the Investigative Committee reported terminating the activity of a criminal group led by the head of the Republic of Komi, Vyacheslav Gaizer.
Nineteen people are defendants in the case, including Gaizer's deputy Alexei Chernov and Igor Kovzel, Chairman of the Republican State Council, and Konstantin Romadanov, Deputy Chairman of the Komi government.
Gaizer denies the charges. Several high-ranking officials have been arrested in the fraud and organized crime case, as well as several business people that the Investigative Committee called "finance technologists."
During 80 searches in Komi, St. Petersburg and Moscow, the Investigative Committee and the Federal Security Service confiscated over 60 kg of jewelry, 150 watches worth $30,000 to $1 million each, over 50 stamps and seals from offshore corporations, and financial documents legalizing over 1 billion rubles ($15.2 mln) in stolen money transferred to the offshore zone.