Ukrainian ex-pilot Savchenko admits calling targets for artillery units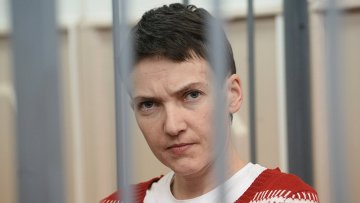 16:20 29/09/2015
MOSCOW, September 29 (RAPSI) – Ukrainian military ex-pilot Nadezhda Savchenko charged with involvement in the killing Russian journalists and civilians in Donbas, admitted that she was calling targets for Ukrainian artillery units, RAPSI reports from the Donetsk Court of the Rostov Region on Tuesday.
However, Savchenko denies that her involvement can be considered as coordinating the artillery fire.
She is also denying an unlawful crossing of the Russian border. Savchenko claims she was kidnapped from Ukraine and brought to Russia.
Savchenko was arrested in Russia last summer on charges of involvement in the murder of two Russian TV journalists during hostilities in Donbas and on illegally crossing the border into Russia.
TV correspondent Igor Kornelyuk and sound engineer Anton Voloshin were killed on June 17 in a mortar attack.
Savchenko, who denies all the charges, is facing 25 years in prison.
Her attorneys claim that Savchenko was framed and that there is no evidence of involvement in the journalists' murder. They also claim she did not cross the border voluntarily but was kidnapped.