Energia Rocket and Space Corporation ex-chief denied bail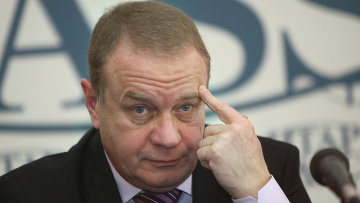 14:57 05/10/2015
MOSCOW, October 5 (RAPSI) – The Moscow City Court on Monday refused to release on bail Vitaly Lopota, former chief of Energia Rocket and Space Corporation, who stands charged with abuse of power, RAPSI reports from the courtroom.
Lopota will remain under house arrest until November 14.
In August 2014, Lopota was released from his presidential post at Energia, one of Russia's leading aerospace corporations. Later, he took up the post of vice president with United Rocket and Space Corporation but soon resigned.
Observers connect the resignation with a criminal case on abuse of power against Lopota. The Investigative Committee found that the top manager violated the law when he provided loans to companies involved in the Sea Launch project.
The investigators estimate damages at 41 million rubles ($ 621,800).
Lopota has been placed under house arrest. Investigation into the case has been extended until November 14. Lopota has pleaded not guilty.
Since 2010, the sea-based spacecraft launch service for Zenit rockets has been funded by Energia's subsidiaries, beneficiaries of Sea Launch AG that own assets in the Sea Launch project.
In 2010, Energia received 5.2 bln rubles ($79 mln) in loans from commercial banks with an 8% annual interest rate, a source in the Federal Security Service told Izvestia. Some 3.4 bln rubles ($51.6 mln) was transferred to Energia's Experimental Machine Engineering Plant as an advance payment under state contracts for the production of manned spacecraft. As instructed by Lopota, the director of the plant signed loan agreements for 2.2 bln rubles ($33.4 mln) with Energia Overseas and for 1.174 bln rubles ($17.8 mln) with Energia Logistics, both taking an interest in Sea Launch AG capital assets. Both loans included an annual interest rate of about 5%.