Navalny pays out $46,000 in Yves Rocher case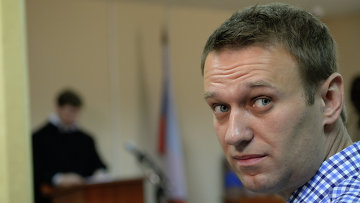 11:06 07/10/2015
MOSCOW, October 7 (RAPSI) – Russian opposition politician Alexei Navalny has paid out 3 million rubles ($46,000) in the Yves Rocher embezzlement case, his lawyer Vadim Kobzev told RAPSI on Wednesday.
Navalny still has to pay 1.5 million rubles ($23,000), Kobzev added.
In September, court bailiffs were ordered by the court to collect nearly 4.5 million rubles ($69,000) from Navalny.
The order to collect the money, specifically 4,498,546 rubles, was issued by the Lyublinsky District Bailiffs Department on July 31 based on a court order of execution dated March 19.
Navalny and his brother Oleg were convicted of committing fraud against cosmetics company Yves Rocher Vostok. Investigators alleged that the Navalny brothers embezzled over 26 million rubles (about $400,000 at current exchange rates) from the cosmetics company, as well as close to 4 million rubles ($61,500) from the Multidisciplinary Processing Company through a fraud scheme. The brothers were further charged with laundering 21 million rubles ($322,600).
In December of 2014, Alexei Navalny received a suspended sentence of 3.5 years, while his brother Oleg was sentenced to 3.5 years in prison.
Alexei Navalny has also been involved in several other cases, including a case of embezzlement at the Kirovles timber company in which he was given a suspended sentence. He has denied all the charges brought against him.
Alexei Navalny is a Russian political and public figure, leader of the Party of Progress. He finished second in the Moscow mayoral elections in 2013 and is the author of one of the most popular political blogs that was banned for promoting unauthorized public protests.