Alleged killer of opposition politician Nemtsov to stay jailed until November 28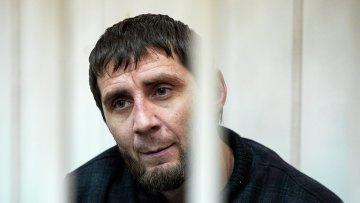 23:45 07/10/2015
MOSCOW, October 7 (RAPSI) – The Moscow City Court on Wednesday upheld the lower court's ruling to extend the detention of Zaur Dadayev, the main suspect in the murder of opposition politician Boris Nemtsov, RAPSI reports from the courtroom.
Dadayev will stay in custody until November 28.
According to Dadayev's attorney Shamsuddin Tsakayev, the court reflected the position in the ruling while the defense was completely ignored. All arguments against Dadayev are unfounded, Tsakayev said.
Nemtsov was murdered in central Moscow on the night of February 28. In the 1990s, the politician held a number of high-ranking posts in the Russian Government. In the 2000s, he joined the opposition.
Five suspects were detained in the case, including the alleged murderer Zaur Dadayev, brothers Anzor and Shadid Gubashev, and Khamzat Bakhayev who, according to investigators, provided his accomplices with information and then hid them after the murder. The fifth suspect, Temerlan Eskerkhanov is said to have monitored Nemtsov's whereabouts. Investigators have not revealed the suspected role of the Gubashev brothers in the crime.
Dadayev initially testified against himself and the other suspects, but later retracted his testimony in court.