Bolotnaya activist Nepomnyashchikh sentenced to 2.5 years in prison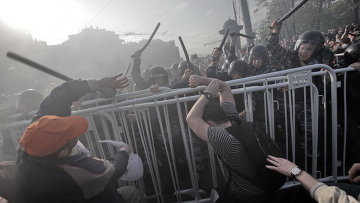 15:26 22/12/2015
MOSCOW, December 22 (RAPSI, Artem Ponomaryov) – The Zamoskvoretsky District Court of Moscow on Tuesday sentenced a defendant in the high-profile Bolotnaya Square riot case, Ivan Nepomnyashchikh, to 2.5 years in penal colony, RAPSI reported from the courtroom.
The court has found Nepomnyashchikh guilty of participation in the riots and application of force against police officers in May 2012.
Nepomnyashchikh was detained in the courtroom. Defendant and his lawyers will appeal the sentence.
The march on Yakimanka Street and the rally on Bolotnaya Square in May 2012, both authorized by the officials, resulted in mass riots and clashes with the police. Dozens of people were injured, over 400 protesters were detained.
The riot organizers, Sergei Udaltsov and Leonid Razvozzhayev, were sentenced to 4.5 years in prison. Other participants received prison terms from suspended sentences to four years. Several defendants were pardoned; one is undergoing compulsory mental treatment.