Sakhalin ex-governor Khoroshavin to stay jailed till late February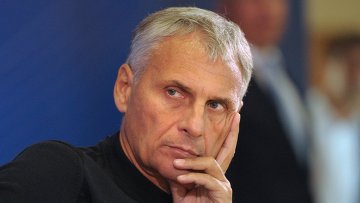 13:53 03/02/2016
MOSCOW, February 3 (RAPSI) – The Moscow City Court has upheld a lower court's decision to extend until February 27 the detention of former governor of the Sakhalin Region, Alexander Khoroshavin, who stands charged with taking bribes, RAPSI reported from the courtroom on Wednesday.
Khoroshavin complained about conditions of detention. Defense asked to release him from jail.
Investigators announced in March 2015 that Khoroshavin and several other officials were arrested for allegedly taking a $5.6 million bribe to secure a contract to build a power unit for the Yuzhno-Sakhalinsk thermal plant.
Khoroshavin asked earlier either to place him under house arrest or to release him on 5-million-ruble ($64,200) bail, but the motion was dismissed.
Last April, Khoroshavin was charged in another criminal case with taking a bribe of at least 15 million rubles ($192,500) for providing credits on advantageous terms to one of the local businessmen. He pleaded not guilty.
In January, the third criminal case was opened against Khoroshavin. According to investigators, he took 27 million rubles ($346,500) in bribes from candidates for the positions in Yuzhno-Sakhalinsk City Duma in 2014.
President Vladimir Putin dismissed Khoroshavin from his post due to "loss of trust" in March 2015.