Transaero appeals recovery of $40.7 mln in favor of Aeroflot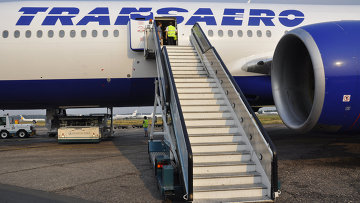 15:44 22/03/2016
MOSCOW, March 22 (RAPSI) – Transaero has filed an appeal with the Moscow Commercial Court against a court's ruling granting Aeroflot airline 2.85 billion rubles ($40.7 mln) in debt recovery dispute between the airlines, RAPSI learned in the court on Tuesday.
On January 25, the Moscow Commercial Court ruled in favor of Aeroflot in a lawsuit against Transaero, ordering the defendant to pay about 2.85 billion rubles ($35.6 mln) it owes to the competitor.
The court dismissed a counterclaim by Transaero that asked to find the loan agreement between airlines invalid.
Transaero representative told the court that on the moment of agreement, CEO of the airline, Dmitriy Saprikin, was a member of the Aeroflot's Board of Directors and that this deal had to be approved by the Board. However, there was no such approval.
Transaero has also told the court that Aeroflot was aware that the loan could not be repaid. The airline believes that decision to provide the money was made in order to increase the debt of Transaero in order for Aeroflot to get rid of competitor and get its air routes. Representative of Aeroflot denied such allegations and said that the loan was given to Transaero so the airline would be able to fulfill its obligations to passengers.
On December 7, the Moscow Commercial Court granted the first lawsuit filed by Aeroflot against Transaero and ordered the latter to pay 5.3 billion rubles ($66.2 mln).
Transaero found itself unable to pay its debts estimating 250 billion rubles ($3.5 billion). Government-approved plan of transferring 75% of company's shares to Aeroflot failed. Its problems resulted in a large number of flight cancels and delays.
In October, Sberbank and Alfa Bank filed bankruptcy petitions against the troubled airline. The Commercial Court of St. Petersburg and Leningrad Region initiated a bankruptcy procedure against Transaero on December 16.