New criminal case launched over embezzlement at Vostochny Cosmodrome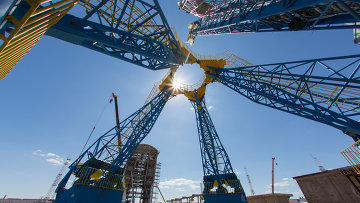 11:50 11/05/2016
MOSCOW, May 11 (RAPSI) – The Interior Ministry of Russia has launched a new criminal case over embezzlement at the Vostochny Cosmodrome, the ministry's official representative Irina Volk told journalists on Wednesday.
According to Volk, the embezzlement case was launched against the head of a commercial organization responsible for carrying out works at the Vostochny Cosmodrome.
Allegedly, the head of the company received an advance payment from its client for construction and installation works to be performed at the cosmodrome. However, investigators allege that more than 76 million rubles ($1.1 million) from the said sum were used by the contractor to repay his debts.
The construction of the space center, due to become Russia's main launch site, began in 2012. The facility opened on April 28, 2015.
Vostochny Cosmodrome management and its contractors became involved in numerous scandals, often related to embezzlement accusations.
According to investigators, ex-CEO of one of the contractors, Dalspetsstroy, Yuriy Khrizman, his son Mikhail and Viktor Chudov, Chairman of the Khabarovsk Krai Duma, embezzled about 106 million rubles ($1.6 million) belonging to the company. However, one criminal episode was uncovered within the investigation into the case over alleged embezzlement at Vostochny Cosmodrome.
Earlier a court in Russia's Amur region has found CEO of the Vostochny Cosmodrome construction contractor Stroyindustriya-S, Sergei Terentyev, guilty of embezzlement and sentenced him to 11 years in penal colony.