Hizb ut-Tahrir branch organizers sentenced to long prison terms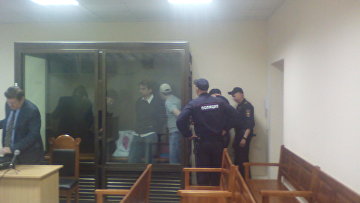 17:03 17/08/2016
ST. PETERSBURG, August 17 (RAPSI, Mikhail Telekhov) – The Moscow District Military Court on Wednesday sentenced two men, Eldar Ramazanov and Karim Ibragimov, to 16 and 17 years in maximum security prison respectively for organizing a branch of Hizb ut-Tahrir organization in St. Petersburg, RAPSI reports from the courtroom.
The third defendant in the case, Ilyas Kagirov, received a 6-year prison sentence for participation in the terrorist group banned in Russia.
Prosecutor has asked the court to sentence Ramazanov and Ibragimov to 19 years each and Kagirov to 6 years in prison.
Earlier, Ibragimov and Ramazanov have pleaded not guilty. Kagirov in turn has pleaded guilty to participation in the prohibited organization.
The Moscow District Military Court is hearing the case in a visiting session in St. Petersburg.
A criminal case over Hizb ut-Tahrir activity in St. Petersburg was opened in May 2014.
In the summer of 2014, the Federal Security Service (FSB) in cooperation with police arrested about 30 individuals allegedly involved in the Islamic group's activity in St. Petersburg. Ivanov was arrested in the Leningrad Region on June 24, 2014. Nine people were detained.
In the summer of 2015, two defendants in the case, Gapur Magomedov and Makhamadinin Saliev, were sentenced to 5 years in prison each.
In March, the court sentenced two leaders of Hizb ut-Tahrir branch, Roman Ivanov and Sergei Yablokov, to 13.5 and 12.5 years in prison respectively. In June, Russia's Supreme Court's Military Collegium reduced the sentence handed down to Ivanov by 4 months.
Hizb ut-Tahrir (the Party of Islamic Liberation), founded in Jerusalem in 1953, is banned in several Arab and Central Asian countries. Russia's Supreme Court banned the group from operating on the territory of the country in 2003, describing it as a terrorist organization.
Hizb ut-Tahrir members are regularly arrested by the police across Russia, mainly in big cities in central Russia, the Volga region and Siberia. Also, there are many supporters in Crimea, which rejoined Russia in 2014.