Russian Supreme Court upholds sentence for Hizb ut-Tahrir recruiter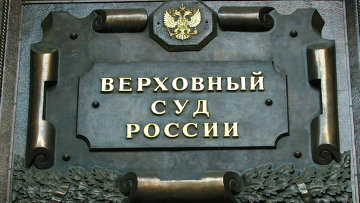 17:21 25/08/2016
MOSCOW, August 25 (RAPSI) – The Supreme Court of Russia has upheld ruling of a lower court for Fanis Gaynutdinov, who was sentenced to six years in penal colony for participating in activity of terrorist organization, RAPSI learned on Thursday from the court's press-service.
According to investigators, Gaynutdinov was helping extremist organization Hizb ut-Tahrir with their activities in the Samara Region. Gaynutdinov has already been in prison for participating in activity of terrorist organization. However, after his release he started recruiting new proponents of radical Islam.
Hizb ut-Tahrir (the Party of Islamic Liberation), founded in Jerusalem in 1953, is banned in several Arab and Central Asian countries. Russia's Supreme Court banned the group from operating on the territory of the country in 2003, describing it as a terrorist organization.
Hizb ut-Tahrir members are regularly arrested by the police across Russia, mainly in big cities in central Russia, the Volga region and Siberia. Also, there are many supporters in Crimea, which rejoined Russia in 2014.