Final charges brought against Bolotnaya case defendant Buchenkov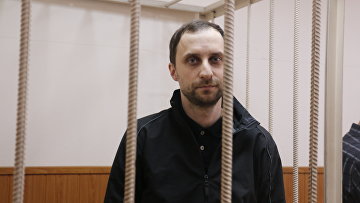 16:30 13/10/2016
MOSCOW, October 13 (RAPSI, Yevgeniya Sokolova) – Final charges have been brought against Dmitriy Buchenkov, who took part in the riots on Bolotnaya Square on May 6, 2012, his attorney Svetlana Sidorkina told RAPSI on Thursday.
According to the lawyer, Buchenkov stands accused of participating in mass riots and attacking persons in a position of authority. There are 6 charge counts and 7 victims in the case against him, Sidorkina said.
As reported earlier, Buchenkov pleaded not guilty.
Over 400 people were arrested and scores were injured in the authorized Bolotnaya Square protest that turned violent in May 2012. Dozens were later charged with inciting mass riots and battery against law enforcement officers.
Riot organizers Leonid Razvozzhayev and Sergei Udaltsov were sentenced to 4.5 years in prison each.
Other defendants in the case received prison terms ranging from suspended sentences to four years. Several defendants were pardoned; one is undergoing compulsory mental treatment.