Antimonopoly watchdog to review case against Russian Railways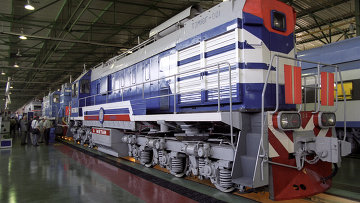 18:01 18/11/2016
MOSCOW, November 18 (RAPSI) – The Federal Antimononopoly Service (FAS) has launched a case against FGK company and the Russian Railways over allegedly setting monopoly high prices for providing open-top wagons for transportation of minerals and construction materials on domestic routes, the Service's announcement reads on Friday.
The case was launched on the grounds of information received by FAS after it had investigated several reports about this matter. Prices for provision of this type of wagons by FGK rose by 38% from January 1 to August 1 this year, as FAS has found out.
According to the Service, FGK is the leader on the open-top wagon transportation market with other competitors looking at the company's rates when setting prices for their services. FAS noted that price hikes initiated by FGK facilitate other companies to increase their prices as well.
FAS notes that any misuse of the dominant position on the market is a serious violation of antimonopoly legislation and is punishable by fine, amounting 1-15% of the violator's earnings.