Mayor Koshurnikov to stay in detention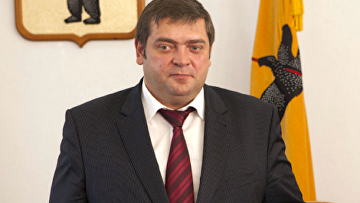 15:41 12/12/2016
MOSCOW, December 12 (RAPSI, Yevgeniya Sokolova) – The Moscow City Court has upheld detention of Denis Koshurnikov, the mayor of Pereslavl-Zalessky, allegedly involved in an embezzlement criminal case, RAPSI learned on Monday from the court's press-service.
Koshurnikov is to stay in detention until January 16, 2017.
On November 25, Koshurnikov, implicated in a criminal case on embezzling over one billion rubles ($15.5 million) from state-owned technology corporation Rusnano, was charged with abuse of office. He was detained until January 16 of 2017.
Two other defendants, NTpharma top managers Yevgeny Sultanov and Rustam Ataullakhanov, have been charged with large scale embezzlement, the statement reads.
According to case papers, Rusnano invested over one billion rubles in the construction of NTpharma pharmaceutical complex in Pereslavl-Zalessky, 150 kilometers (85 miles) northeast of Moscow, since 2010. The object had to be completed in September 2012, but the project company repeatedly rescheduled the facility commissioning.
Investigators along with the Interior Ministry and Russia's Federal Security Service found that construction works at the object had not been conducted for years. However, funds received by NTpharma from Rusnano have been embezzled.
Therefore, the facility has not been put into service yet.
Investigators believe that in 2011 Sultanov and Ataullakhanov purchased a land plot from a firm belonging to Koshurnikov to give the appearance of handling of work on the project realization.
As the acquired plot is located within the national park Pleshcheevo, permit issuing for the construction was inadmissible. However, Koshurnikov, then head of Pereslavl region, gave such permit.
Sultanov and Ataullakhanov have been arrested on suspicion of embezzling funds allocated by Rusnano for the pharmaceutical complex construction. On November 18, Sultanov was placed under house arrest; Ataullakhanov was put in detention as well as Koshurnikov.