Trust bank's appeal over $50.7 mln claim set for January 26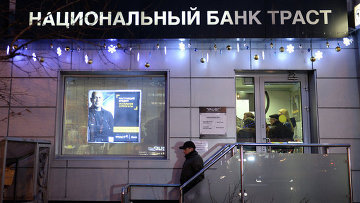 16:53 09/01/2017
MOSCOW, January 9 (RAPSI) – The Moscow District Commercial Court will consider on January 26 a cassation appeal filed by Trust bank against lower courts' refusal to recover 3.3 billion rubles ($50.7 million) from several foreign companies, RAPSI learnt in the court on Monday.
On March 4, the Moscow Commercial Court dismissed the bank's claim seeking to collect the money from Austrian Bank Winter & Co. AG and Cypriot Вlack coast development and management LTD. According to the agreement between Trust bank and the companies, all disputes, including those over legal power of agreement, are to be reviewed in foreign courts.
The ruling was upheld by the Ninth Commercial Court of Appeals in September.
Altogether, for the first half of 2015, Trust bank filed about 20 lawsuits against companies registered in the offshore jurisdictions worth over 32 billion rubles ($464.5 mln) and over $94 million. Business media outlets reported that some of these companies were associated with the former owners of the bank.
In late December 2014, the Central Bank of Russia said it would provide Trust Bank with up to 30 billion rubles ($530 million) to stop it going bankrupt. At the time the bank was placed under temporary supervision of the Deposit Insurance Agency it was on the list of top 30 Russian banks.
The financial rehabilitation of Trust Bank was led by FC Otkritie Bank, part of Otkritie Holding JSC. As a result, Trust Bank now operates as a subsidiary of Otkritie Holding.