Russian Authors' Society head to remain in jail until Feb.17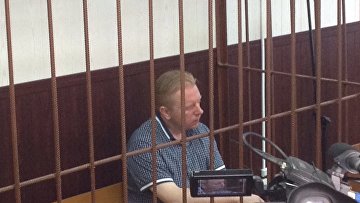 16:27 19/01/2017
MOSCOW, January 19 (RAPSI, Yevgeniya Sokolova) – The Moscow City Court has upheld the extension of detention for Sergey Fedotov, general director of the Russian Authors' Society (RAO) who stands charged with large scale fraud, the court's press service told RAPSI on Thursday.
Fedotov will remain in jail until February 17.
As previously reported, the case against Fedotov has been transferred from the Interior Ministry to the Investigative Committee for inquiry. This decision reportedly was connected with the fact that Fedotov, who had earlier denied his guilt, suddenly signed a plea bargain.
Investigators claim that employees of the Interior Ministry and the Federal Security Service (FSB) have revealed fraud scheme over illegal alienation of RAO's property. Damage to the RAO's property amounted to 500 million rubles ($7.8 mln).
In July, Fedotov was charged with commission of large scale fraud.
His lawyer Denis Baluyev insists that his client is a victim of calumniation.
The Russian Authors' Society is a non-governmental organization created in 1993 for collective management of author's rights. At this moment over 25,000 people are listed as its members.