Russian Supreme Court softens sentence for imam for justifying terrorism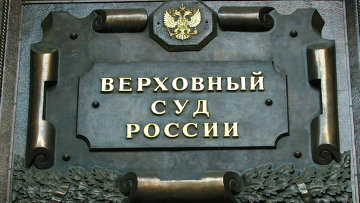 15:47 26/01/2017
MOSCOW, January 26 (RAPSI, Oleg Sivozhelezov) – Russia's Supreme Court has softened sentence for imam of a mosque in the Dagestan Republic, Magomednabi Magomedov, found guilty of justifying terrorism, RAPSI correspondent reports from the courtroom on Thursday.
The Supreme Court's Colleague ruled to reduce Magomedov's five-year prison sentence, issued by the North Caucasus District Military Court, to 4.5 years. Prosecutor requested to upheld the ruling of a lower court in full, while defense asked to overrule it noting that no complex psychological-linguistic expertise, with participation of religion expert, was conducted regarding this case.
Magomedov has been accused of "incitement of hatred and enmity as well as violation of human dignity" (Article 282 of the Russian Criminal Code) and "public calls for terrorist activity or public justification of terrorism" (Article 205.2 of the Criminal Code).
Investigators claim that in February 2016, Magomedov, being an imam of "Vostochnaya" mosque, made a public speech containing statements justifying terrorist activity and calls aimed at incitement of religious hatred. Moreover, the defendant showed hatred towards law enforcement authorities, according to investigation.