Ex- Russian MP Ponomaryov seeks to drop embezzlement charges against him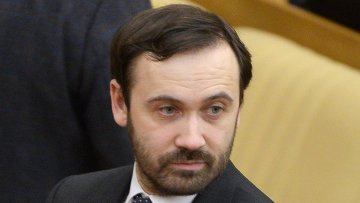 14:24 01/02/2017
MOSCOW, February 1 (RAPSI) – Former State Duma lawmaker Ilya Ponomaryov has filed a request with the Investigative Committee demanding to drop charges brought against him in the Skolkovo Foundation embezzlement case, RIA Novosti reported Wednesday citing his lawyer Maria Bast.
Ponomaryov has passed a lie-detector test which revealed that he is innocent, the agency quoted the attorney as having said.
Ponomaryov fled Russia in 2015. Reportedly, he left for Ukraine and received temporary residence permit there.
In June 2016, he was stripped of the State Duma lawmaker's seat because of systematic failure to execute his MP duties.
According to investigators, Ponomaryov assisted former Skolkovo Vice President Alexey Beltyukov in embezzling the foundation's funds. Beltyukov allegedly paid Ponomaryov $750,000 of the foundation's money, without management approval, for lectures and research projects between February 2011 and February 2012. An investigation was launched into Beltyukov's actions to analyze the subject, the content and the academic value of the lectures that Ponomaryov was contracted to provide.
In August 2013, Moscow's Gagarinsky District Court ruled that Ponomaryov must repay 2.7 million rubles to the Skolkovo Foundation, Russia's high-tech development center, for an unreasonably overpriced service. The Moscow City Court has upheld the ruling.
Ponomaryov pleaded guilty and insisted that the case against him is politically motivated.