Russian Constitutional Court orders review of Briullov painting smuggling case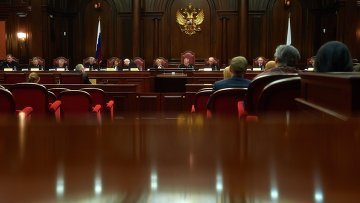 11:59 07/03/2017
ST. PETERSBURG, March 7 (RAPSI, Mikhail Telekhov) – Russia's Constitutional Court has ruled that a smuggling case against German collector Alexander Pevzner, who complained over forfeiture of the painting by prominent artist Karl Briullov entitled, 'Christ in the Sepulcher', must be reconsidered, RAPSI reports from the court on Tuesday.
However, the court held that the Criminal Procedure Code's article disputed by Pevzner does not contravene the Constitution.
Pevzner in his complaint filed with the Constitutional Court attempted to challenge provisions allowing to forfeit instruments of crime after termination of a criminal case because of expiry of the period of limitation. The painting was a case in point.
According to the Constitutional Court's ruling, the seized painting may be returned to the collector only after his acquittal.
In 2003, Pevzner brought the painting he owned into Russia via the customs station in Vyborg in the Leningrad Region. Even though it was a cultural property, Pevzner did not declare the masterpiece, according to investigators. The collector was charged with smuggling.
In November 2013, the Vyborg City Court in the Leningrad Region dropped charges against the German citizen as the statute of limitations had expired. However, the court ruled to confiscate the painting from Pevzner and ordered its transfer to the Russian Museum in St. Petersburg.
In 2014, the Leningrad Regional Court overturned the lower court's ruling in part and returned the piece of art to its owner. In 2015, the decision was upheld.
In April 2016, the Supreme Court of Russia reversed the Leningrad Regional Court's ruling and ordered the forfeiture of the painting under the Article 81 of the Criminal Procedure Code which envisages that crime instruments belonging to the accused must be confiscated, transferred to the relevant institutions or destroyed.