CAS disqualifies Russian doctor for life over doping scandal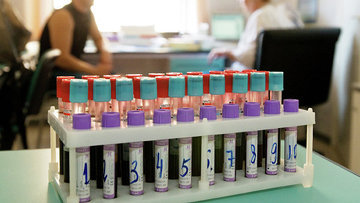 10:50 13/03/2017
MOSCOW, March 13 (RAPSI) - The Court of Arbitration for Sport (CAS) in Lausanne has disqualified for life ex-Deputy Director of the Russian research Institute of physical culture and sports (VNIIFK), Sergey Portugalov, involved in a doping scandal, the Russian Athletic Federation announced on its website on Monday.
The CAS ruling has become effective.
Earlier, doctor Portugalov was found guilty of violating several articles of anti-doping rules of the International Association of Athletics Federations (IAAF) including possession of a prohibited substance, trafficking or attempted trafficking of a prohibited substance, administration of a prohibited substance.
Portugalov was among persons named in the film-the investigation of the German TV channel ARD about alleged use of doping by Russian athletes aired in 2014. The scandalous documentary triggered an investigation by the World Anti-Doping Agency (WADA).
On November 9, 2015, WADA held a press-conference in Geneva where independent commission of the organization accused Russia of numerous anti-doping rules violations. Commission recommended International Association of Athletics Federations (IAAF) to suspend Russian athletes from participation in competitions under its auspices, including the 2016 Olympics.
IAAF followed the recommendation and suspended the Russian Athletics Federation (ARAF). Subsequently, anti-doping laboratory in Moscow was suspended while RUSADA was declared non-compliant to WADA Codex standards.
On July 21, 2016, the Court of Arbitration for Sport (CAS) dismissed an appeal by Russia's Olympic Committee and 68 Russian athletes against excluding from participation in competitions. Only one Russian athlete, Darya Klishina (long jump) took part in the 2016 Olympics in Rio.
In mid-July 2016, the first part of the so-called McLaren Report was presented by Professor Richard McLaren from Canada acting as an independent person in a probe into alleged state-sponsored cover up and manipulation of the doping control process. At that time the authors stated that the Russian sport authorities were aware of these facts; moreover, certain officials directly participated in falsifications.
According to the first part of the report, the work of the Moscow anti-doping laboratory was allegedly aimed at protection of Russian athletes taking prohibited substances, whereas the Sochi anti-doping laboratory developed a system of samples swapping during the 2014 Winter Olympics.
The second part of the report, stating that "over 1,000 Russian athletes competing in summer, winter, and Paralympic sports could be identified as being involved in or benefitting from manipulations to conceal positive doping tests", was released on December 9.