Prosecutor General: 584 terrorist group members sentenced in Russia and abroad in 2016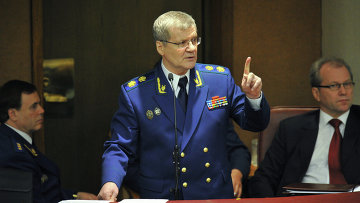 14:55 14/03/2017
MOSCOW, March 14 (RAPSI) – Prosecutor General Yury Chaika announced on Tuesday that 584 people were convicted and sentenced in Russia and abroad in 2016 for participating in illegal military groups and terrorist organizations.
According to Prosecutor General, conviction of terrorist group members was one of premises of avoiding terrorist attacks. Almost all offenses of terrorist nature registered last year were terminated at the stages of their preparation and criminal attempt, Chaika said during the enlarged meeting of the Russian Prosecutor General's Office.
Efficiency of targeted preventive actions increased due to the coordinating role of the National Anti-Terrorist Committee and commissions in Russia's territorial entities, he added.
Earlier in March, head of Russia's Investigative Committee Alexander Bastrykin reported that over 1,000 cases connected with terrorist and extremist crimes were opened in 2016.
In February, President Vladimir Putin said during the Federal Security Service's (FSB) collegium that amount of terrorist crimes had dropped in Russia.