Interpol confirms cancellation of Red Notice against ex-president Yanukovych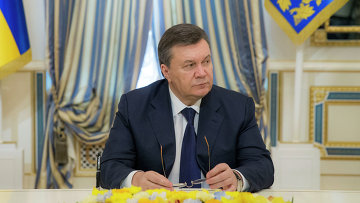 17:55 03/05/2017
MOSCOW, May 3 (RAPSI) – The Interpol has officially confirmed that it has deleted Red Notice concerning ex-president of Ukraine Viktor Yanukovych and removed related information from the organization's database, the Joseph Hage Aaronson LLP law firm, representing interests of Yanukovych, announced on Wednesday.
According to the company's press-release, Interpol also deleted information concerning Oleksandr Yanukovych, son of the former president and suspended the so-called Diffusion, a request for co-operation in relation to investigation against him.
The company claims that Interpol took these actions because "the cases were politically motivated, lacked an evidentiary basis, and lacked due process".
The Obolonsky District Court in Kiev will begin hearing a case against Yanukovych, who stands charged with treason, on May 4. The Ukrainian prosecutors accuse Yanukovych of the same crimes allegedly committed by former "Berkut" officers: using fire arms against protesters in Kiev in late 2013 and early 2014. However, his case is subject to separate criminal proceedings.
In early 2015, it was reported that the Ukrainian Prosecutor General's Office brought charges against Yanukovych in absentia and addressed Russia with a request to extradite the former president. On June 6 of the same year, Russia declined to extradite Yanukovych, according to the Prosecutor General's Office's spokesman Alexander Kurennoy. Interpol published information on Red Notice against Yanukovych.
However, in July of 2015, information related to Yanukovych vanished from the Interpol database with the organization removing his file from the list of requested persons. Ukrainian Interior Ministry then announced that information was temporarily removed because the Red Notice against ex-president was being appealed.