Moscow court upholds extension of mayor Koshurnikov's detention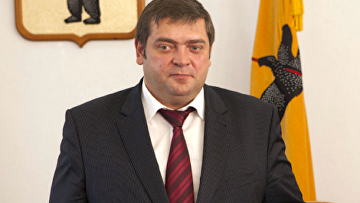 13:55 10/05/2017
MOSCOW, May 10 (RAPSI, Oleg Sivozhelezov) – The Moscow City Court has upheld a ruling of a lower court extending detention of Denis Koshurnikov, the mayor of Pereslavl-Zalessky, charged with abuse of office that led to grave consequences, until July 16, RAPSI learnt in the court on Wednesday.
Earlier, the Basmanny District Court has ruled to detain Koshurnikov and NTpharma top managers Rustam Ataullakhanov and Yevgeny Sultanov in this case. Detention of Ataullakhanov and Sultanov has also been extended.
Investigators believe that in 2011 Ataullakhanov and Sultanov purchased a land plot from a firm belonging to Koshurnikov to give the appearance of handling of work on the project realization.
As the acquired plot is located within the national park Pleshcheevo, permit issuing for the construction was inadmissible. However, Koshurnikov, then head of Pereslavl region, gave such permit.
Investigators claim that Ataullakhanov as a founder of NTpharma has completed control over the company and ordered Sultanov to transfer funds to accounts of controlled firms. Ataullakhanov's lawyer said that his client has never been a founder of NTpharma and that there is no evidence of embezzlement. Ataullakhanov denies guilt.
According to case papers, Rusnano invested over one billion rubles in the construction of NTpharma pharmaceutical complex in Pereslavl-Zalessky, 150 kilometers (85 miles) northeast of Moscow, since 2010. The object had to be completed in September 2012, but the project company repeatedly rescheduled the facility commissioning.
Investigators along with the Interior Ministry and Russia's Federal Security Service found that construction works at the object had not been conducted for years. However, funds received by NTpharma from Rusnano have been embezzled.
Therefore, the facility has not been put into service yet.