Russian billionaire Deripaska files defamation lawsuit against Associated Press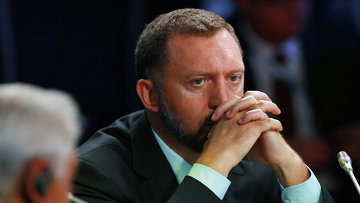 14:23 16/05/2017
MOSCOW, May 16 (RAPSI) – Russian tycoon Oleg Deripaska has lodged a defamation lawsuit against the Associated Press news agency over an article about business relations between the businessman and Paul Manafort, a campaign manager for Donald Trump, the case documents read on Tuesday.
The lawsuit was filed with the United District Court for the District of Columbia.
Deripaska claims that the Associated Press acted with actual malice by publishing an article called "AP Exclusive: Before Trump job, Manafort worked to aid Putin". The article was published on March 22 and, according to Deripaska, contains false and defamatory statements implying that his commercial dealings during the period from 2005 to 2009 were related to the election campaign of Donald Trump.
In particular, the lawsuit reads that later, in separate video, the Associated Press has "admitted" that relationship between Deripaska and Manafort was over before the election campaign began, yet the news agency did not distribute it along with the article. The Associated Press did not provide a public correction and retraction and other influential media organizations republished the article leaving readers under impression that Deripaska's dealings were related to controversy surrounding the election campaign, the claim reads.
According to the lawsuit, the Associated Press has also spread false information regarding Deripaska by alleging that he was involved in theft of Ukrainian assets in 2014 and suggesting that his contacts with Manafort were intended "to basically undermine democratic movements."