Moscow Region court initiates restructuring of Trust bank ex-owner's debts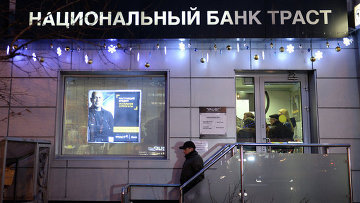 17:44 10/11/2017
MOSCOW, November 10 (RAPSI) – The Moscow Region Commercial Court has initiated the procedure of debt restructuring on the request of Trust Bank against one of the former bank's owners Nikolay Fetisov, RAPSI learnt from the court on Friday.
The bank's demands seeking 3.59 million euros and about 101 million rubles (about $1.7 million) were included in the creditor's demands list. Hearings in Fetisov's bankruptcy case are set for April 19, 2018.
In April 2017, the Ninth Commercial Court of Appeals dismissed Fetisov's appeal over transfer of the bankruptcy case to the Moscow Regional Court. On January 10, the court of appeals found Trust bank's lawsuit legal.
In April 2016, Trust Bank lodged a lawsuit with the London High Court seeking $830 million in damages from its ex-owners Ilya Yurov, Gleb Fetisov and Sergey Belyaev.
The claim was filed following a court decision to freeze assets belonging to ex-shareholders. The ruling was delivered on the grounds that companies connected with the defendants obtained credits amounting to $1 billion providing security worth nearly $150 million, according to the statement of Otkritie Holding.
These loans were serviced prior to reorganization of Trust Bank in 2014.
Before lodging the claim, in January, Trust Bank turned to the London High Court seeking to freeze accounts of ex-owners and suspend a deal stipulating free divestment of assets priced at $100 million, Otkritie Holding's press service said.
In May, Yurov sought for reversal of the assets freeze. However, this motion was dismissed.
In late December 2014, the Central Bank of Russia said it would provide Trust Bank with up to 30 billion rubles ($530 million) to stop it going bankrupt. At the time the bank was placed under temporary supervision of the Deposit Insurance Agency it was on the list of top 30 Russian banks.
The financial rehabilitation of Trust Bank was led by FC Otkritie Bank, part of Otkritie Holding JSC.
On December 17, 2015, Moscow's Tverskoy District Court issued an arrest warrant in absentia for Yurov and two other former owners of the bank, implicated in a large-scale embezzlement case. As reported earlier, they allegedly concluded sham credit contracts with companies registered in Cyprus and then transferred funds to accounts controlled by Trust Bank ex-owners.