Plaintiffs in defamation case over "Trump dossier" ask court not to disclose home addresses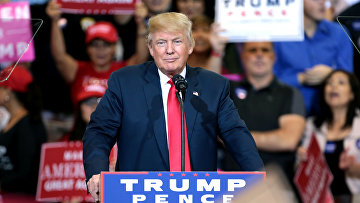 14:59 17/11/2017
MOSCOW, November 17 (RAPSI) – Owners of Russian consortium Alfa Group have asked the Federal District Court for District of Columbia not to divulge their home addresses in documents concerning the defamation lawsuit over publication of information contained in the so-called "Trump dossier", according to court documents.
The plaintiffs believe that their characterization as "billionaires" along with negative statements about them in the dossier "make the invasion of plaintiff's privacy and/or threats to their safety foreseeable consequences" of such a disclosure. The claimants also believe that this motion would not infringe any of the core policy concerns.
According to the claimants, the defendants, Glenn Simpson and Fusion GPS company, failed to undermine essence of their motion. However, authors of the dossier say that nothing in the document suggests that owners of Alfa were involved in the 2016 U.S. presidential election's interference. They assert that the plaintiffs are in fact limited purpose public figures. The claimants believe that the latter argument actually serves in favor of their motion.
Co-owners of Alfa believe that the defendants use this argument as a "first salvo before the battle" because plaintiffs carry a higher burden of proof if they are recognized as limited purpose public figures.
The defamation lawsuit was launched in October. The plaintiffs stated that during the 2016 U.S. presidential elections opponents of Donald Trump hired Simpson to compile a dossier containing damaging information about the candidate. The document in question in many ways was focused on Trump's alleged relations with Russia and Russian meddling with the elections in the United States.
According to the plaintiffs, authors of the dossier mentioned Alfa in one of the reports and claimed that its owners are implicated "in the scandalous allegations involving Russia and President Trump" as well as other criminal activities, including corruption.
"Defendants knew that this Report was not verified, and that it defamed Plaintiffs on its face. Defendants could easily have removed that Report from the Dossier before they started peddling the Dossier to media and journalists in September and October 2016. They chose not to do so," the lawsuit reads.
In May, the plaintiffs filed a similar lawsuit against U.S. media company Buzzfeed and its employees, who published the same dossier in January. The plaintiffs asked a court to recover compensation of at least $25,000 for each of them and to fine Buzzfeed with a sum established during the hearings.