Ex-head of Russian Border Agency gets 9 years in prison for embezzlement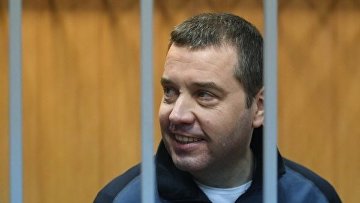 21:13 29/12/2017
MOSCOW, December 29 (RAPSI) – Moscow's Meshchansky District Court on Friday sentenced former head of the Federal Border Development Agency Dmitry Bezdelov to 9 years in prison and fined him 1 million rubles ($17,400) for embezzling about 500 million rubles ($8.7 million), the court's spokesperson Yulia Kotomina told RAPSI.
His accomplices were also found guilty, and received prison terms ranging from 2 to 8 years in prison.
A prosecutor earlier demanded 10 years in prison for Bezdelov, 9 years for his former deputy Boris Khaitovich, and jail terms varying from 3 to 8 years for seven other defendants.
In December 2016, the Meschansky District Court of Moscow ruled to return the case against Bezdelov to the Prosecutor General's Office. The case was also consolidated with similar cases against other defendants. Earlier, lawyer Boris Kozhemyakin expressed an opinion that cases may be united because of potential existence of documents proving innocence of the agency's ex-head in another case. In April 2017, the Moscow City Court upheld consolidation of the cases.
Investigators claim that in 2009, Bezdelov, then head of the Federal Border Development Agency, conspired with a number of other people to embezzle public funds allocated for the construction of checkpoints on the state border. From September 2009 to May 2013, they allegedly stole and laundered over 490 million rubles.
Bezdelov resigned from his post in October 2013 after a probe had revealed inappropriate use of budget funds by the agency. He was arrested in Rome in October 2014 after he had been put on the international wanted list. Italy's court of appeals upheld the decision to extradite Bezdelov to Russia in October 2015. The Supreme Court left the judgment intact.