Defendants allegedly behind Kazan Cathedral terror attack plot to stay detained until May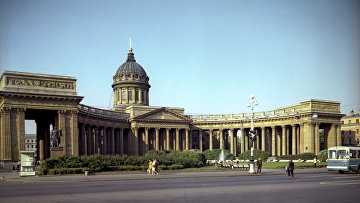 13:59 12/02/2018
MOSCOW, February 12 (RAPSI) – A St. Petersburg court has extended detention for defendants in a criminal case over attempted terror attack in the city's Kazan Cathedral, Yevgeny Yefimov and Anton Kobets, until May 13, the Unified press-service of St. Petersburg courts has told RAPSI.
The defendants are charged with abetting an attempted terror attack. According to the press-service, Yefimov told the court that had been preparing explosives for a suicide bomber.
Investigators claim that Kobets assisted Yefimov with study of the area for an explosion and advised him on the terror attack.
According to the Federal Security Service (FSB), seven members of the Islamic State terrorist organization (ISIS) banned in Russia were arrested on December 14. They allegedly planned to commit a terrorist attack with the participation of a suicide bomber in one of the monumental cathedral's in St. Petersburg on December 16.
Law enforcement officers believe that the alleged terrorists were controlled by the ISIS leaders from abroad via Telegram messenger.
Weapons, explosives, and extremist literature have been seized during searches at their premises. Moreover, a laboratory for preparing explosive bombs has been liquidated.
Alongside Yefimov and Kobets, several other persons are in detention: a native of the Republic of Dagestan Shamil Omargadzhiyev, Tajikistan's native Firuz Kalavurov and Ingushetia Republic's native Aliskhan Esmurziyev, who had AK-74M assault rifles and ammunition found with them.
The fate of two other defendants in the criminal case over preparation of terror attacks in St. Petersburg, who were detained as well, is unknown.