Former Russian banker charged with $12 mln embezzlement to stay detained till August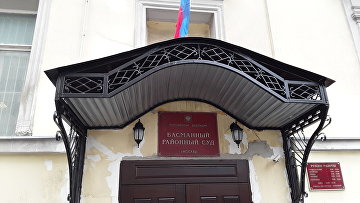 14:59 04/05/2018
MOSCOW, May 4 (RAPSI, Nikita Shiryayev) – Moscow's Basmanny District Court on Friday extended detention of ex-Rosprombank president Sergey Salogubov charged with embezzlement of 756 million rubles (about $12 million) until August 10, RAPSI reported from the courtroom.
The court granted a motion filed by investigators while defense asked to put the defendant under house arrest as he was charged with a business crime.
According to investigation, in 2016, Salogubov signed eight claim assignment agreements and five real estate sale contracts totaling to 400 million rubles ($6.3 million) with an undisclosed person. A land plot in the Moscow Region worth over one billion rubles ($16 million) per documents was transferred to the bank in their payment. The party to the transaction agreed to sell the plot for 756 million rubles and 354 million rubles ($6 million) more he received from the bank in cash. In sober fact, the commercial value of the land plot was 90 million rubles. Thus, Rosprombank suffered a 756-million-ruble damage, the Investigative Committee's press service reported.
Salogubov could face up to 10 years in prison if convicted. The second part to the deal has been put on the wanted list.
The Central Bank of Russia revoked the license of Rosprombank in September 2016 for failure to abide by banking legislation. In November 2016, the Moscow Commercial Court declared the financial organization bankrupt.