Fine imposed on Navalny for failure to enforce ruling in dispute with Usmanov reduced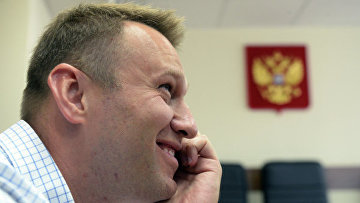 15:25 10/05/2018
MOSCOW, May 10 (RAPSI) – The Moscow City Court has reduced the fines imposed on opposition politician Alexey Navalny for refusal to remove information about billionaire Alisher Usmanov recognized as defamatory by 2,000 rubles ($32), the court's press service has told RAPSI.
Navalny has appealed a ruling on imposing two fines totaling to 4,500 rubles ($72) against him for failure to delete information on Usmanov within the time prescribed by bailiffs.
On May 31, 2017, the Lyublinsky District Court of Moscow granted a libel suit lodged by Usmanov against Navalny. The court recognized information about Usmanov distributed by the Anti-Corruption Foundation and Navalny as discrediting and untrue and ordered the defendants to refute the statements.
The lawsuit was related to a movie published by the politician on his Youtube channel implying that Russia's Prime Minister Dmitry Medvedev had acquired property using non-profit foundations.
In particular, the movie implied that Usmanov had gifted a land plot with a mansion to a foundation allegedly controlled by Medvedev. The Prime Minister said that intent of "these so-called investigations" was to get people out onto the streets and to achieve particular political goals. Usmanov said that Navalny misled people and that his assertions were libel.
According to the updated 2017 ranking compiled by Forbes magazine, Usmanov holds the fifth place in the list of Russia's richest businessmen with a net worth $15.2 billion. His largest assets are shares in the ore and steel giant Metalloinvest, shares in electronics, media and telecom companies as well as 30% of shares in Arsenal Football Club.