Russia's Hermitage Museum withdraws $481k claim against embezzlement case defendants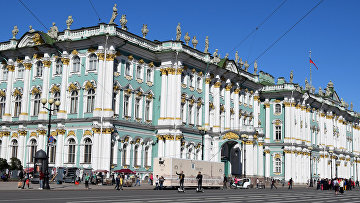 12:59 04/07/2018
ST. PETERSBURG, July 4 (RAPSI, Mikhail Telekhov) - The Hermitage Museum has withdrawn a 30.6-million-ruble claim ($481,000) against defendants in the case over embezzlement during construction and restoration of the museum's facilities, RAPSI reports from the Kuibyshevsky District Court of St. Petersburg.
According to a prosecutor, ex-deputy director of the Hermitage Museum Mikhail Novikov and managing director of BaltStroy company Alexander Kochenov have paid the damages in full.
In June, Novikov and Kochenov pleaded guilty to embezzling 30.6 million rubles.
In late March, the Federal Security Service's (FSB) officers conducted searches in the State Hermitage Museum.
Searches in the engineering department's buildings were related to a criminal case earlier launched against several individuals allegedly involved in embezzling money during construction of new facilities for the museum's use, the State Hermitage announced on its website. Museum officials provided law enforcement authorities all information required including documents on two construction contracts, according to the statement.