Police denied compensation for batons lost during 2012 Bolotnaya riots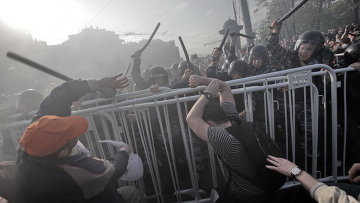 16:51 02/08/2018
MOSCOW, August 2 (RAPSI) – A court in Moscow on Thursday dismissed a claim filed by the Interior Ministry seeking to collect 44,000 rubles from six Bolotnaya Square case defendants for police batons and radio stations lost after the riots held in May 2012, RAPSI reported from the court.
Police demanded compensation from riot organizers Leonid Razvozzhayev and Sergey Udaltsov, activists Aleksey Gaskarov, Ilya Gushchin, Alexander Margolin and Yelena Kokhtareva.
Defendants in turn asked the court to dismiss the claim because of expiry of the statute of limitations in the case, which is equal to 3 years.
Over 400 people were arrested, and scores were injured in the authorized Bolotnaya Square protest that turned violent in May 2012. Dozens were later charged with inciting mass riots and battery against law enforcement officers.
Riot organizers Leonid Razvozzhayev and Sergey Udaltsov were sentenced to 4.5 years in prison each. Other defendants in the case received prison terms ranging from suspended sentences to four years. Several defendants were pardoned; two activists were sent to compulsory mental treatment.