Appeal against arrest of alleged St. Petersburg terror attack organizer reaches court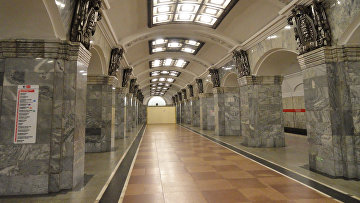 10:59 31/08/2018
MOSCOW, August 31 (RAPSI) – The Basmanny District Court of Moscow has registered an appeal against arrest in absentia for an alleged organizer of the notorious St. Petersburg subway terror attack Sirozhiddin Mukhtarov, the press-service of the court has told RAPSI.
Date of the hearings has not been set yet.
Earlier, the court issued an arrest warrant for Mukhtarov, a member of Jama'at al-Tawhid wal-Jihad terrorist group prohibited in Russia. The defendant is to stay in detention for two months after he gets apprehended by law enforcement. Currently. the defendant is on the international wanted list.
On August 2, the Investigative Committee stated that the law enforcement completed preliminary investigation into the St. Petersburg metro terror attack case. According to the Committee, the documents related to the case concern 11 defendants.
On April 3, 2017, an unknown device exploded in a train between St. Petersburg metro stations Technological Institute and Sennaya Ploshchad. According to law enforcement authorities, 16 people died in the blast including a suicide bomber, over 50 were wounded. 112 persons were acknowledged as victims in the criminal case.
Investigators believe that an organization with a goal of spreading terrorist activity, including attacks on Russia and its citizens, was founded in Syria. According to investigators, the suicide bomber Akbarzhon Dzhalilov manufactured two explosives and brought them to the St. Petersburg metro.
One of the bombs that Dzhalilov kept to himself exploded around 2:40 PM Moscow time between St. Petersburg metro stations Technological Institute and Sennaya Ploshchad. The second bomb located at Ploshchad Vosstaniya station failed to detonate due to its malfunction and was subsequently found and disarmed.