Defendant in Sugrobov's case challenges his sentence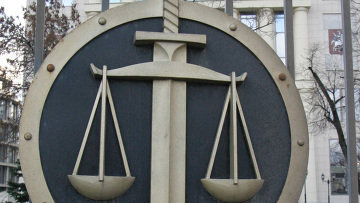 10:59 10/10/2018
MOSCOW, October 10 (RAPSI) – Pavel Dashin, a defendant in the case involving convicted Interior Ministry's Economic Security and Anti-Corruption Department's ex-chief Denis Sugrobov, has filed an appeal against his 3-year-long prison sentence, the press-service of the Moscow City Court has told RAPSI.
The appeal has not been transferred to the Supreme Court of Russia as of yet.
In August, the Moscow court sentenced Dashin to 3 years in prison. The defendant was found guilty of abuse of power. In addition to the prison term, Dashin lost his rank of major. The trial was held behind closed doors.
In April 2017, the Moscow City Court found Sugrobov guilty of organizing a criminal group, abuse of office and provocation of bribery. In December, the Supreme Court of Russia mitigated his sentence from 22 to 12 years in a high security penal colony.
Other Interior Ministry's officers involved in the case, Salavat Mullayarov, Ivan Kosourov, Vitaly Cherednichenko, Yevgeny Shermanov, Sergey Borisovsky, Sergey Ponomarev and Andrey Nazarov, received prison terms ranging from 17 to 20 years. One more defendant, businessman Igor Skakunov, was sentenced to 4 years in high-security prison. Gennady Sobolev, ex-officer of the Interior Ministry's Economic Security and Anti-Corruption Department, was given a 3-year prison sentence for abuse of authority.
Sugrobov's deputy Boris Kolesnikov, who committed suicide in 2014, was also found guilty. The case against Kolesnikov was closed because of his death.
All convicted officers were stripped of their ranks.
According to investigators, Sugrobov and Kolesnikov tried to provoke a Federal Security Service (FSB) officer by offering him $10,000 a month for his protection. Sugrobov has been charged with organizing a criminal group, abuse of power and bribery.
Kolesnikov was arrested in February 2014. In June, he jumped out of a window during questioning at the Investigative Committee. Later, the Basmanny District Court said no evidence was found of assisted suicide.
In total, 10 people became defendants in this case with case materials making about 400 volumes. Thirty persons were recognized as aggrieved parties, thirteen of whom filed suits seeking to recover in total 218 million rubles (about $3.5 million) from the defendants. Later, victims withdrew their claims.
Sugrobov, 42, is one of the youngest police generals. He obtained the rank of Lieutenant General at the age of 36.