Sentence of alleged crime boss in extortion case takes effect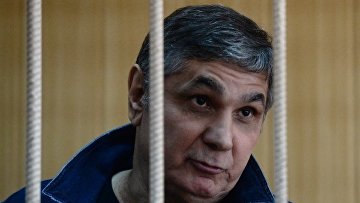 14:59 28/11/2018
MOSCOW, November 28 (RAPSI) – The Moscow City Court on Wednesday upheld prison sentence given to the alleged criminal lord Zachary Kalashov, also known as Shakro Molodoy, as part of a criminal case over extortion of 8 million rubles (about $120,000), RAPSI correspondent reports from the courtroom.
The sentence therefore became effective.
In March, the Nikulinsky District Court of Moscow sentenced Kalashov, to 9 years and 10 months in a high security penal colony.
His accomplice Andrey Kotchuykov received 8 years and 10 months while other defendants were sentenced to jail terms varying from 7 years and 4 months to 9 years and 4 months. They were found guilty of an extortion committed on an especially large scale by an organized group.
Their terms were also upheld Wednesday.
The alleged gang leader is believed to be involved in a shootout near the Elements restaurant in Moscow that left two persons dead. Investigators believe that Kalashov has organized an extortion of 8 million rubles from the restaurant owner.
Kalashov is also related to a bribery case against high-ranking investigators Denis Nikandrov and Mikhail Maksimenko. On March 19, he denied his connection to either of them.
According to prosecutors, in 2016, Maksimenko and his accomplice received $500,000 bribe for help with one of criminal cases. Maksimenko is also charged with taking $50,000 bribe in 2015 for organizing unlawful criminal prosecution of law enforcement officers in the interests of a bribe-giver. He has been arrested along with other high-ranking investigators, his deputy Alexander Lamonov and the First Deputy Head of the Investigative Committee's Moscow Directorate, General Denis Nikandrov.
In addition, investigators believe that they extorted 10 million rubles (about $150,000) from a head of a large joint-stock company. The defendants denied their connections to Kalashov.