Ex-official of nuclear supervision agency to stay jailed in embezzlement case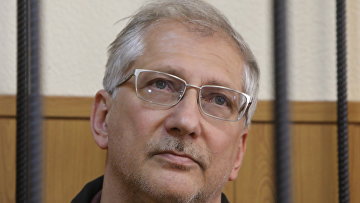 15:52 10/01/2019
ST. PETERSBURG, January 10 (RAPSI) – A court of appeals held that the former director of the North-West department of the nuclear supervision agency Rostekhnadzor Grigory Slabikov charged with complicity in embezzlement of 5.6 billion rubles ($83.5 million) would stay in detention until April 11, the United press service of St. Petersburg courts told RAPSI on Thursday.
His daughter Yelena involved in the case is under house arrest.
According to the press service, the defendants have pleaded guilty.
Investigation into embezzlement of more than 5 billion rubles from compensation funds of the Union of engineering companies Standard-Project, the Union of locating engineers Standard- Front-end Engineering and the Union of construction organizations Construction Power began in 2017.
According to investigators, Slabikova was an intermediary between gang members, who were stealing money from compensation funds of three self-regulatory organizations in St. Petersburg, and her father, who is believed to be a coordinator in the crime.
Slabikov stands charged with assistance in adding companies controlled by gang members to the register of self-regulatory organizations without inspections. He allegedly received around 1 million rubles for each operation. He was put in detention on May 11.
In October 2017, three other persons were detained as part of the case, and one more defendant was placed under house arrest.