Former female police officer gets suspended sentence for organizing illegal migration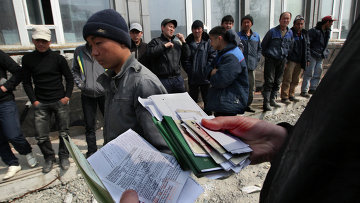 16:45 06/02/2019
ST. PETERSBURG, February 6 (RAPSI) – Ex-deputy migration chief of a St. Petersburg district's police department Nina Shoppert on Wednesday received a 3.5-year suspended sentence for organizing illegal regularization of stay in Russia for immigrants from the Commonwealth of Independent States (CIS), RAPSI reports from the courtroom.
Five ex-subordinates of Shoppert also received suspended terms ranging from 2.5 to 4 years.
Businessman Aram Manukyan, who paid police officers 6,000 rubles for each foreigner's registration received a 4-year suspended sentence and was fined 150,000 rubles ($2,300).
According to court records, in 2016 and 2017, the criminal group prepared 117 packages of documents including passport copies, arrival-departure records, forged arrival notes, fabricated motions to extend migration registration and sham enrolment contracts for illegal registration of foreigners.